Matt Green (Driver / Team Owner)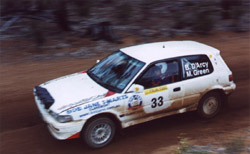 Matt is 31 years of age and lives in Perth, Western Australia.
Matt started his motorsport career racing sprint karts, mainly at Wanneroo Kartway at age 14.
At age 18 the passion turned to rallying and he started competing in the WA Car Club Championship in a standard 1300cc Corolla road car. After winning his grade 2 years running, and finishing runner up in the outright championship against seasoned rally drivers, he purchased a rally car, a Group N (production class) 1990 Corolla FX-GT in 2000.

After a few rallies, 2001 was the first official season as "RallyFX". This was a huge learning curve for Matt, having never driven on such fast roads before, learning how to drive in a rally, and trying to find a set up for the car that worked. We went well, finished all the rallies and ending up 2nd in the WA Class N2 Rally Championship.
In 2002 came our first win, at the Forest Rally, a 2 day ARC round. This was by far our best year, with 3 class wins from 4 events. Despite rolling the car during a small event in between rallies, a massive rebuild and missing a rally, it didn't stop us from winning the 2002 WA N1 Rally Championship. Matt was also chosen to attend a Young Drivers Motorsports Development Program at the Australian Institute of Sport in Canberra.



2003 was the year we decided to change to the more higher spec PRC class. We ran the same Group N car against more highly modified competition. We managed to win the first event, but then subsequently sold the car to make way for the current 1991 Corolla FX-GT (PRC) rally car. The new car was a real handful, being much more powerful than the old car. We finished the season 2nd in the PRC2 Championship.
2004 was a mixed year. This year saw a few problems, a few "offs", one of the biggest in our career at the Experts Cup, where we took a right-hand bend too fast, went off the road into the scenery, and tore a massive branch off a tree, bursting the oil-cooler, and damaging a headlight and front panels. But by season's end we still ended up 3rd in the WA Rally Championship in PRC2.



In 2005, Matt made some changes to the car (suspension etc), and we netted some good results. Experts Cup was a highlight, we managed to beat a few turbo 4wd cars to finish just outside of the top 10, and a close 2nd in class. After some close battles, Brian won the Co-drivers Championship in PRC-2, and Matt just missed out, but managed to finish runner-up in the championship. For the first time Matt also competed in a round of the Speed Event Series in Hisham's Turbocharged Lancer Evo1. It was a fun event, with a great variety of cars. Amazingly, Matt won the event outright. (The tarmac bug has bit!)

2006 was a different year. Mainly because we contested rounds of the WA Speed Event Series in a Lancer Evo1 run by Hisham. We also competed in some Drifting events at Wanneroo Raceway in Camo's R32 RB25 Skyline. Really enjoyed the experience.
In mid 2006 Matt purchased a Subaru WRX road car from Tenagah. Matt wasted no time, quickly stripping the car back to a bare shell, and rebuilding it from the ground up, with a fully integrated roll-cage, and lots of race preparation.


We debuted the car at Jack's Hill later in the year, with a decent result, and gathered lots of info from the day so we can improve the car.
When possible, Matt still attends club runs, and has won the last 5 WA Car Club go kart nights in a row, thanks to his karting background.

In the 2007 off season, we made some changes to the Subaru, and we contested almost all of the 2007 WA Speed Event Series. Our best result was 3rd outright at the Wind Farm Hill Climb in Albany. Matt finished the year 4th in 4WD and 8th outright in the series. We also decided to bring out the Corolla for a run in a rally in Jarrahdale. Unfortunately we had a huge accident and almost destroyed the Corolla. The plan is to rebuild it and come back to the gravel.

In 2008 the plan was to compete in Tarmac events. However we have encountered various problems, so decided to not compete, and take a break.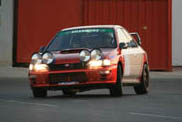 We came back in 2009 and ran the WRX in a few tarmac events like Meelup and the Twilight RallySprints. The results were very good, considering lack of budget, and little seat time.
2010 We will contest events when possible. We would do more but are in need of some sponsorship. Please contact Matt if you want to help.

Matt's occupation is an IT Consultant, and part time Performance Driving instructor/trainer at the RAC Driving Centre (formally AHG) in the MC Motorsport division.


---

Brian D'Arcy (Co-driver / Promotions)

Starting in the mid 1960's as a volunteer official, Brian started to compete in rallying in 1975. With wins at club level events, Brian was asked to join the "Perth Shockabsorber Centre" team in 1979 as lead co-driver. That team then went on to hold the greatest number of rally team awards for the next nine years.

A brief retirement was interrupted by success in the 1995 Yilgarn Rally, followed by wins in the 1995 & 1996 Clubman Championships.



After stepping aside to assist the organisers of the early Rally Australia events, Brian again came back to competition with runner up in class N2 at Rally Australia in 1998 and again in 1999. At the same time, finishing 2nd in class N2 overall, in the WA Rally Championship, 1998, 1999.
Brian joined RallyFX in 2000, helping Matt learn more about driving in rallies. Things seemed to work well in the car and out, and so a great partnership was formed. Brian was runner up again in the WARC N2 class Championship alongside Matt.
2001 was highlighted with some closely fought battles with some good results, at season's end Brian finished third in class N2 .

The 2002 season was a defining one, with 3 class wins and a podium. We broke though to become Western Australian Champions in class N1.



In 2003, a change to the higher PRC2 category brought mixed results, with second in the PRC2 Championship. 2004 we managed third.
2005 was an interesting year, some good teamwork netted consistent podiums, and this ensured Brian won the 2005 Co-drivers championship. But unfortunately for Matt, he finished runner up.

2006 was a quiet year, but Brian re-appeared in a "last hurrah" codriving in a Evo Lancer at Rally Australia, which was run for the last time in WA.
After 30 years and countless rallies, Brian has hung up his helmet and retired from rallying.

"I'd like to thank you Luis for all you've done for me, I wouldn't have had the success I've had without you mate" - Matt Green



---

To find out more about rallying, where to go and see it, how it works, or even to become a part of it, visit the WA Car Club Website:
(website designed and maintained by Matt)




There is more rallying in WA than just Rally Australia!