RallyFX team driver Matt Green, co-driven by Brian D'Arcy, held on to win Class N1 at the Respect Yourself Forest Rally, from Scott Clarke/Justin Doney, in their Hyundai Accent/Excel.
The "Respect Yourself" Forest Rally is Round 2 of the Australian Rally Championship (ARC), and Round 1 of the WA Rally Championship (WARC), held in Busselton and Nannup, south of Perth.
The Rally started on Matt's 23rd birthday on the streets of Busselton in an exciting bitumen super special stage. This stage was exciting for the fans, as the action was close, and the track was narrow and fast. RallyFX had a fantastic start to the event, setting blistering times, matching some of the turbo 4WD cars. They were also the only car to catch and pass the car in front. "We were able to maintain good speed in the tight corners, using the nimble handling of our Corolla FX to our advantage." commented Matt, "This is an awesome stage, I really enjoy driving on bitumen."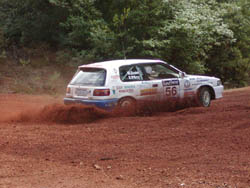 Enlargement available in Photos page
The real forest stages started on Saturday. The Corolla FX is not as powerful as the most of the class N1 competition, but Matt & Brian managed to finish the rough and rocky heat 1 in second place. Overnight rain changed the nature of the roads on Sunday, and Matt and Brian took advantage of the faster conditions and were 21 seconds in front, and with 3 stages to go, Scott/Doney experienced gearbox problems, allowing Matt/Brian to ease off slightly, preserve the car, and win heat 2 by over 7 minutes from Nigel Brown/Roger Budz, in their Daihatsu Charade, with Clarke/Doney 3rd.
Round 2 of the WARC is the Lewana Stages Rally in May.