News
Next Event: Quit Targa West
2016: Matt is contesting selected rounds of the WCMRC onroad championship.

2015: Matt contested the Mini Nats in Melbourne. A national event which invites all RC (Radio Control) Mini racers from around the country. It was a fantastic event. Qualifying was interesting, as running in the rain was something that Matt has never experienced! (In WA we stop when the rain starts!)
But after getting advice from friends who've raced in the rain before, Matt qualified 5th in Tamiya Mini, and 3rd in Open Mini.
Visit the "News" page for more...
Matt contested the 2015 On-Road WA State Titles, hosted at WCMRC. Using a borrowed chassis at the last minute, Matt tied on points for TQ (Top Qualifier) with 2 other drivers. But Matt won TQ on count-back with a faster race time. For the Finals, it's best 2 out of 3 races. Matt managed to win the first 2 finals to become WA State Champion in Sportsman (21.5) Touring Car. Matt now has a state title in both real cars, and toy ones!

2014: RallyFX has basically transitioned into radio controlled model car racing. Due to Matt's ongoing injuries from "the big one", he has found a calling, and will be focussing on this for a few years. The plan is to slowly build the new AE86 over the next few years.

2013: The new tarmac-gravel spec car will be a 1983 Toyota AE86 Levin.

2012: RallyFX has began purchasing parts to build a new tarmac-gravel spec car. More info to follow...

2011: We are having a year off this year. With Meelup Hill Climb being cancelled, this was the event we really wanted to do, so we will try to get some funds together to do some events in 2012...

2010: The Rally Sprint was great fun. Check out some new videos and photos. Thanks to James for the great photos!

Nov 2009: New videos from Meelup & The K-Tec Rally Sprint are now available!

2009: As promised, RallyFX are back this season, the WRX has a new engine with some extra goodies. We did some testing at some events at the end of 2008. See videos. We will be back sometime in 2009 .. watch this space.

2008: RallyFX will not be seen this season, for various reasons we are having a break. We will be back in 2009 with a stronger racing package.

31.12.2007: Even though we did not compete at all of the rounds of the 2007 WA Speed Event Series, we still managed 4th in class, and 8th outright for the championship! Many thanks to all who helped us throughout the year.

Update: we have new videos of our escapades this year, check out the video page.

25.11.2007: Jeremy and I are lucky to walk away from a massive crash at the Darling 200 Rally. We would like to extend our thanks to everyone who was involved at the scene. We hope to be back soon. -Matt.


---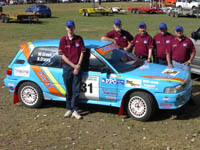 Welcome to RallyFX.com. We are a rally team who compete in the WA Rally Championship, Clubman Cup rallies, WA Speed Event Series, and other local club events in Western Australia.
The cars we compete in are: a gravel rally car: Toyota Corolla FX-GT, driven by Matt Green, and co-driven by Brian D'Arcy. And a tarmac car: Subaru WRX, driven by Matt as well.

We started competing in the WA Rally Championship in 2001, and in 2002 we secured the Western Australian Class N1 Rally Championship in our 2nd full year.
Check out the menu on the left for car info, plus news, photos and lots more.



RallyFX would like to thank:
Tony Flood, Suria TakeAway, Seaview Aquariums, Wheels on Yirrigan, Fineline Print & Copy Service, Bob Jane T-Mart Claremont, PPC, FryFresh, Blackwood Cafe Nannup, Wilkinson Suspension, Maximum Motorsport, Just Toyota Wrecking.
Also a huge thanks to Cameron, for the opportunity to do some drifting.
Please visit the Sponsors section, for more information on our sponsors.

The RallyFX team:
Matt Green - Driver & Team Owner; Brian D'Arcy - Co-Driver & Promotions; David Green - Team Manager,
Service Crew:
Denis Robert, Laurie Palmer, Paul Barrow.

To find out more about rallying, where to go and see it, how it works, or even to become a part of it, visit the WA Car Club Website:
(website designed and maintained by Matt)




There is more rallying in Australia than just Rally Australia!